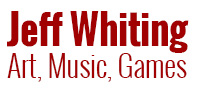 Entries Published On July, 2011
I got the body all painted, and then applied a few coats of varnish today. It was coming along pretty well, until I got a bit too much on it, and got a run on the front, near the top. I touched it, trying to smooth it out, and that just made it worse. I …
Continue reading
A few days into Star Trek Online now, and I'm really enjoying it so far. At first, it was a bit daunting finding my way around, and wondering what to do next, as the areas are so big, but the missions have sent me out into content I can readily handle, and I'm learning how …
Continue reading
Wil Wheaton posted this yesterday – I think he said it originally came from Ira Glass. For creative people, it really illuminates things!
Continue reading
I spent a little more time with Star Trek Online this evening, and I think I'm getting a feel for it. I explored the spacedock above Earth, and saw tons of other players and ships in the proximity.
Continue reading
Finally got around to putting the first coat of paint on my old Fender Precision refinishing project. It's not going to be as fancy as I'd once hoped it would be, but I need to get it back to a playable state.
Continue reading
On one hand, there's a lot of great stories that have been told that are now "old continuity", but on the other hand, a fresh start could bring a lot of exciting new and fresh ideas for characters that have been around for so many decades. I wonder if Marvel will follow and do the …
Continue reading
I don't like algebra. I enrolled in online classes at the Art Institute of Pittsburgh at the beginning of the year, and classes have been going great. I had a 4.0 grade average until I got to my current class – algebra. This stuff kicked my ass 30 years ago, and it's not changed a …
Continue reading
Servers were up this morning! I researched the controls a little more, and know what I'm doing for movement and interaction now. I have the basics of combat down, both for the ships and ground missions. My first character is a guy named Chris Rickenbacker. He's an ensign on the USS Fender, and when all …
Continue reading
I got Star Trek Online installed and patched fairly quickly. Here are my initial impressions – One giant server. From what I can see, all players are in the same space. I haven't encountered any instances yet. Character creation was pretty versatile. Lots of options. I don't like that I have to play as the …
Continue reading